Latest Publictions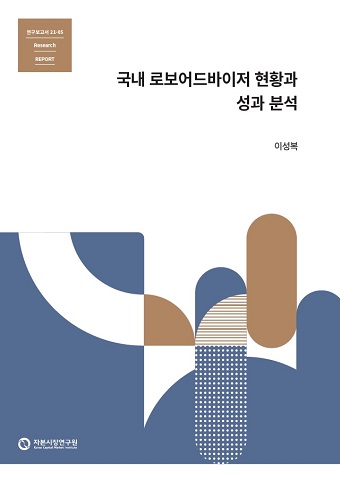 2021 Dec/06
Analysis on Robo-advisor Performance in Korea
Research Papers 21-05
PDF
Summary

It has been 5 years since robo-advisors were first introduced in Korea in 2016. As of the end of June 2021, the number of subscribers recorded a rapid increase over the past year and recorded 380,000, and the amount of managed assets continued to increase, but as of the end of June 2021, it was below 2 trillion won. However, since the COVID-19 pandemic was declared in early 2020, the number of investment advisory and discretionary robo-advisors increased significantly in line with the increase in individual participation in stock markets.

In Korea, unlike overseas, various types of robo-advisors have emerged and developed. Among them, product recommendation robo-advisors provided by banks record a high market share, while the investment advisory and discretionary robo-advisors of investment advisory companies have been making strides since the mid-2020. There are also many information-providing robo-advisors from securities companies that recommend listed stocks and provide trading timing information, while the size of the market is unknown.

As of the end of March 2021, there are 14 robo-advisory service providers that have passed the examination of the Robo-advisor Test Bed (RATB) and are currently providing services, whereas there are 31. This is because anyone can freely use the name of the robo-advisor, and if there is any human intervention, it does not fall under the 'electronic investment advice device' according to the Financial Investment Services and Capital Market Act, so it is implicitly accepted that it does not need to be reviewed by RATB.

In addition, although the product recommendation robo-advisor is almost identical to the investment advisory robo-advisor in terms of service content, it does not need to be reviewed by RATB and is not subject to investment advisory regulations. In addition, information-providing robo-advisors are not legally providing guidance, not advice, so that they are not subject to regulation on the sale of financial products or investment advice.

However, as the number of robo-advisor subscribers increases and the demand for robo-advisors continues to increase, financial consumers may misunderstand robo-advisors, which may lead to large-scale mis-selling and large-scale damage to financial consumers. In this regard, it is necessary to reorganize the robo-advisor regulation and supervision system based on the same conduct-same regulation principle.

Moreover, digital finance is now becoming a necessity, not an option. As such, the issue of selecting the most suitable robo-advisor for financial consumers is becoming more important than before. In particular, if there is a difference in asset management performance among robo-advisors, the financial consumer's asset management performance may vary depending on the choice of robo-advisors.

As a result of empirically analyzing the asset management performance of robo-advisors based on the data provided by RATB as of the end of March 2021, the paper found that there is a clear gap in asset management performance across robo-advisors. In particular, among robo-advisors to be analyzed, robo-advisors that realize abnormal excess returns, follow market returns well, and show good rebalancing performance are not observed. Of course, among robo-advisors, even if the rebalancing performance is low or insignificant, there are some robo-advisors that can realize an abnormal excess return while tracking the market return at a very low level. Some robo-advisors with relatively good rebalancing performance are also observed.

Considering that there is a clear gap in asset management performance across robo-advisors, it is necessary to improve the robo-advisor disclosure system so that financial consumers can easily inquire and compare them to make the right choice for them. Furthermore, it seems necessary to strengthen the regulation on the obligation to explain the robo-advisor algorithm as in other countries and to thoroughly check the problem of conflicts of interest by robo-advisors.

A policy is also needed to improve the asset management performance of robo-advisors. For example, there is a need for regulatory support so that robo-advisors can easily implement efficient diversification for financial consumers who invest in small amounts. For reference, in September 2021, the financial authorities announced a plan to introduce a fractional stock trading for overseas stocks in 2021 and for domestic stocks during the second half of 2021.

Finally, as a result of empirical analysis of the client acquiring performance of robo-advisors, it appears that the asset management performance does not necessarily lead to the client acquiring performance. In particular, in cases of the robo-advisory service provider being a brokerage company, it shows poor client acquiring performance compared to banks or investment advisory companies, despite its asset management performance not lagging behind. Considering this, securities companies are required to make efforts to significantly improve the service accessibility of their robo-advisors.