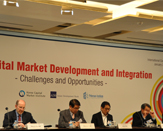 Asian Capital Market Development and Integration: Challenges and Opportunities
Orchid Room, 2F, The Westin Chosun Hotel
Last year, Korea's capital markets enjoyed active inflows thanks to the upgraded sovereign rating and large current account surplus. This year, however, the capital markets may face volatility of interest rates and foreign exchange rates, both of which will be largely influenced by the tapering of quantitative easing in the US and how Japan's Abenomics plays out. In addition, China's strengthened real estate price policy is expected to lead to a contraction in investments and consumption, which could make China's economic slowdown worse than is forecasted. The chances are high that any change in the global financial markets will abruptly alter global capital flows in 2014, and this necessitates proper countermeasures at the policy level.
For the past two years, Korea Capital Market Institute (KCMI) has conducted joint research with Asia Development Bank (ADB) and Peterson Institute of International Economics (PIIE) under the theme of "Asian Capital Market Development and Integration: Challenges and Opportunities." The results are here and will be published as a report. It covers important subjects such as the deepening and development of the Asian capital markets as well as the macroeconomic challenges that authorities face because of increasing interconnectedness in the global economy.
To commemorate the release of the publication, KCMI is holding an international conference where the authors and other speakers will present and discuss the key findings of the report. This event is for all who have an interest in capital market integration in the Asia region, and if that is you, we ask for your presence and participation at the conference.