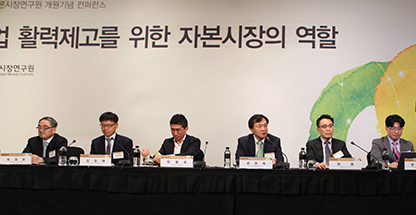 The Role of Capital Markets in Revitalizing Corporations
Grand Ballroom, 3F, Conrad Seoul
Grave concerns are voiced over Korea's weakening economic vitality. Unlike the past, Korea has shown moderate economic fluctuations recently. This indicates its transition towards a developed economy but attests the loss of growth momentum. Behind this trend lies a decline in corporate investment. Unless the investment revives, the Korean economy may go astray amid the rapidly changing environment, namely a global paradigm shift in industries, an intensifying trade war between economic superpowers, and global monetary tightening. Against this backdrop, Korea Capital Market Institute will host a conference titled, "The Role of Capital Markets in Revitalizing Corporations."

The conference will explore the role of capital markets in enhancing corporate value. More specifically, it will shed light on the fact that a surge in internal reserves at Korean corporations is the result of sluggish corporate investment and this phenomenon is not unrelated to changing industrial structure. In recent years, the importance of innovative companies has been emphasized, leading to the creation and growth of many innovative startups. Although innovative firms invest heavily in research and development and intangible assets, they are not as scalable as traditional manufacturing firms in making large-scale capex investment. A number of innovative companies in particular struggle to keep their business afloat in their early stage. Financial intermediaries lack capabilities to evaluate innovative startups and their technologies. Consequently, it is difficult for innovative firms to expand investment due to their very limited access to external funding. The ongoing shift in the industrial structure demands changes to the intermediation role of the capital markets. At the conference, an in-depth discussion will take place about how to reshape the capital markets to support the growth of innovative companies.

In addition, the conference will have a special discussion session on desirable direction for the exercise of shareholder rights to increase long-term corporate value. Lately, there are growing calls for shareholders, especially institutional investors, to be proactive in exercising their rights. However, the exercise of shareholder rights, if it is heavily skewed towards short-termism, also known as "quarterly capitalism," would rather undermine long-term corporate value. The special session will provide a forum to initiate intense discussions on the exercise of shareholder rights and corporate value.
Presentation Materials
Changes in the Characteristics of Korean Firms and the Role of Capital Markets (Korean)Park, Yong Rin Download

Senior Research Fellow, KCMI Park, Yong Rin

Senior Research Fellow, KCMI Nam, Gilnam

Exercise of Shareholder Rights by Institutional Investors and Enhancing Corporate Value (Korean)Song, Hong Sun Download

Senior Research Fellow, KCMI Song, Hong Sun