Recently, major global financial services firms are pushing into the virtual assets business. Previously, leading investment banks such as Goldman Sachs, Morgan Stanley and JP Morgan took a cautious stance toward virtual assets, primarily due to their ambiguous legal status and excessive price volatility. In particular, Jamie Dimon, CEO of JP Morgan, has consistently expressed a skeptical view of virtual assets.
1)
However, JP Morgan has recently switched its position to expand technology investment and business operation regarding virtual assets. It has even launched its first cryptocurrency, JPM Coin. These global firms are advancing more actively into the virtual assets market because of the increasing investor demand for the volatile asset class. A growing number of institutional investors and wealthy clients want to incorporate virtual assets into their investment portfolios. Under these circumstances, financial firms have no choice but to provide virtual asset services to attract and retain clients. Additionally, as the blockchain technology that underpins virtual asset is considered highly applicable across all financial sectors, financial firms are investing heavily in related technologies. Against this backdrop, this article examines virtual asset business activities being conducted by global financial institutions including Goldman Sachs, Morgan Stanley and JP Morgan.
Capacity building for virtual asset services

Global financial firms are preparing for, or currently offering a wide range of virtual asset services. As an initial step, they have set up virtual asset-focused divisions in recognition of the growing significance of virtual assets and blockchain technology. Goldman Sachs opened its cryptocurrency trading desk for institutional investors in March 2021, the first dedicated virtual asset trading unit established by U.S. megabanks.
2)
Morgan Stanley also launched a dedicated cryptocurrency research division in September 2021, which initially plans to focus on analyzing the impact of virtual assets on traditional asset markets.
3)
Previously, JP Morgan created Onyx, its digital asset-focused business team in October 2020. More than 100 employees have been assigned to the Onyx unit for both issuance and management of its stable coin, JPM Coin, and research and development of blockchain-related products and services.
Global financial firms are also aggressively investing in technology of virtual assets and blockchain. According to Blockdata, a market research platform for virtual assets and blockchain, Goldman Sachs, Morgan Stanley and JP Morgan are estimated to have each invested $200 million or more in fintech firms specializing in virtual assets and blockchain. Goldman Sachs has provided funding for seven major fintech firms including Coin Metrics, which analyzes crypto data and provides blockchain services and blockchain infrastructure, and Blockdaemon, which offers staking and node infrastructure to institutional investors. Key fintech firms invested by Morgan Stanley include NYDIG, a bitcoin company, R3, which provides enterprise technology and services, and Securitize, who specializes in storing security tokens. JP Morgan's investments include Axoni, a distributed ledger specialty firm, and TRM Labs, which delivers blockchain analysis and anti-money laundering solutions.
4)
The motivation behind the investments in fintech firms is to obtain technology and business capacity in the virtual asset sector, in addition to financial returns.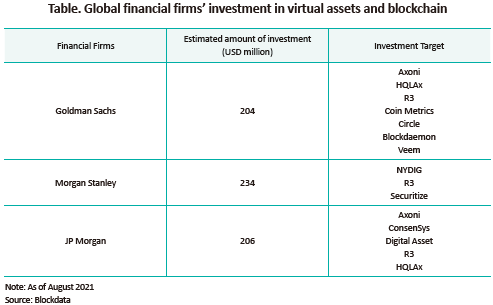 Virtual assets in wealth management

Virtual assets investment is being increasingly integrated into wealth management services of large banks, as more clients are demanding exposure to virtual assets and for portfolio hedging. However, at least for now, global financial firms are only allowing institutional investors and wealthier clients access to virtual assets, due to greater risk intrinsic in virtual assets and higher minimum investments requirements.
Morgan Stanley has become the first global financial firm to provide virtual asset investment products as part of its wealth management business. Retail and institutional investors must have at least $2 million and $5 million, respectively, in assets held by Morgan Stanley for six months or longer to qualify for its virtual asset funds. Furthermore, even for the clients who meet the criteria, the firm is limiting virtual asset investments to 2.5% of their total net worth. Morgan Stanley has launched access to three virtual asset funds for its wealth management clients. The Galaxy Bitcoin Fund and FS NYDIG Select Fund have investments minimum of $25,000, while the Galaxy Institutional Bitcoin Fund has a $5 million minimum.
5)
JP Morgan started offering investment brokerage services for virtual asset funds to all of its wealth management clients in 2021. But its advisors are not allowed to directly recommend investments in virtual assets and can sell relevant products only if a client expresses the intention to invest.
6)
Additionally, the bank has also presented a passively managed in-house bitcoin fund to its wealthier clients.
7)
Goldman Sachs filed an application with the Securities and Exchange Commission (SEC) for a DeFi and Blockchain ETF in July 2021. As indicated in its document submitted to the SEC in March 2022, it plans to receive fees from its wealthier clients by giving access to an Ethereum fund which is the Galaxy Institutional Ethereum Fund managed by Galaxy Digital, founded by a former Goldman Sachs partner, with a minimum investment of $250,000. Goldman Sachs has not disclosed specific criteria to qualify for access to its virtual asset funds such as the minimum investment amount, but It is widely known that its wealth management division is catered towards its wealthiest clients and institutional investors, those with a minimum of $2.5 million to invest.
8)
Conclusion

Although virtual assets entail various risks such as high price volatility and ambiguous legal standing, investor demand for the asset class has been on a steady rise. In response to such high demand, global financial firms have deviated from their past conservative approach and are increasingly providing virtual asset investment services. However, virtual asset-related products or services offered by the firms are limited to those with sufficient risk tolerance such as institutional investors and wealthier clients. Furthermore, only a narrow range of virtual asset products is available due to regulatory restrictions. Currently, virtual asset funds offered cannot invest directly in virtual assets, only in futures or investment in related companies.
Currently, fintech firms, not major financial firms, are leading the innovation in the virtual assets market. But global financial firms are likely to accelerate their entry into the virtual asset sector and establish a solid foothold in the market. Going forward, regulatory framework of virtual assets including legal status and investor protection is expected to become more concrete. Also, a more sophisticated system would be set up to accumulate track records and data of virtual assets and to control relevant risks, thereby expanding financial firms' scope of virtual asset activities. Accordingly, these changes would further intensify competition in the virtual assets market. Korea's virtual assets market is also expected to hold an important position in the financial investment sector in the near future. As such, it is high time for Korea's financial institutions to build virtual asset-related business capacity and devise an effective investment strategy.
---
1) Jamie Dimon criticized bitcoin as a terrible store of value in the 2014 World Economic Forum held in Davos, and also went on the attack on bitcoin during the 2021 Institute of International Finance's annual membership meeting by denouncing it as worthless.
2) Goldman Sachs launched the cryptocurrency trading desk in 2018 but ceased operating it for a while before restarting the desk in 2021.
3) Cointelegraph, September 15, 2021, Morgan Stanley launches cryptocurrency research team.
4) JP Morgan made a strategic investment in TRM Labs in March 2022.
5) CNBC, March 17, 2021, Morgan Stanley becomes the first big U.S. bank to offer its wealthy clients access to bitcoin funds.
6) Reuters, July 23, 2021, JPMorgan to give all wealth clients access to crypto funds-Business Insider.
7) Nasdaq, August 4, 2021, JPMorgan launches in-house bitcoin fund for private bank clients.
8) Forbes, April 5, 2021, Goldman Sachs cryptocurrency endorsement boosts wealth management.