Latest Publictions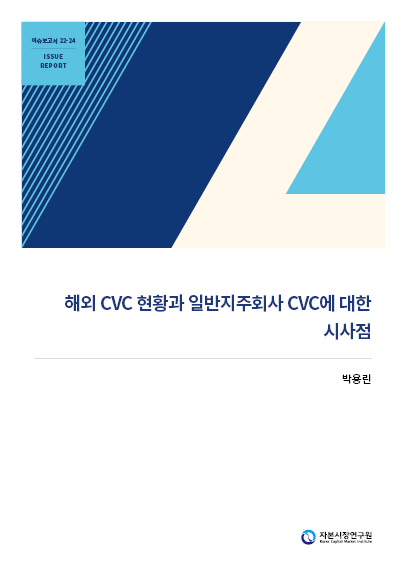 2022 Dec/12
Current State of Overseas CVC and its Implications for Holding Company CVCs
Issue Papers 22-24
PDF
Summary

The 2021 amendment to the Monopoly Regulation and Fair Trade Act has permitted Korea's non-financial holding companies to establish Corporate Venture Capital (CVC). CVC firms established by non-financial holding companies are expected to contribute to the sound development and qualitative advancement of Korea's startup ecosystem which has already achieved quantitative growth, as is the case with other economies. Notably, non-financial holding company CVC is subject to stricter regulations, considering Korea's unique economic structure where economic power is heavily concentrated in large companies. Against this backdrop, the purpose and investment activities of CVC should be fully understood to ensure that CVC firms created by holding companies overcome the limitations of existing CVC created by non-holding companies and catalyze the development of Korea's startup ecosystem.

Overseas CVC firms have been established for various purposes and have become major players in the startup ecosystem through collaboration with independent venture capital (VC), which are key factors behind their success. A quantitative analysis has found that in terms of the size of funding and investment, CVC is larger than independent VC. It also tends to engage in overseas investment and joint investment projects more frequently and exhibit better exit performance. In addition, overseas CVC has diversified into internal or external financing strategies and the selection of initial fundraising strategy depends on overall capital market conditions at the time of establishment.

Among regulations on non-financial holding company CVC, the duty of creating a wholly-owned subsidiary and the ban on the operation of non-investment financial businesses seem not to run counter to practices of overseas CVC. But there is room for easing external financing regulation to the extent that current regulation allowed as an exception to the separation of financial and industrial capital is enforced. Above all, the 40% ceiling on external financing by each fund, applicable to non-financial holding company CVC, should be revised to 40% of CVC's total investment in funds with the aim of increasing autonomy in the composition of fund investors. What is needed over the medium term is thorough monitoring for developments in the startup investment ecosystem with regard to non-financial holding company CVC. In addition, competent authorities should gradually alleviate regulations by taking into account how the market reacts to such developments.