Recently, online services such as the so-called Stock Leading Room (a stock advisory social media chatroom) that give access to investment information are booming on the back of a growing interest of retail investors in stock trading. Stock Leading Room is a term that refers to a social media chatroom where operators give investment tips—like recommendable shares or when to buy stocks—to retail investors with less experience in stock trades. It is widely known that the word 'leading' has been used in that service operators are claimed to lead investors in the direction towards successful investment. Such stock advisory social media chatrooms are mostly run by quasi-investment advisors or by other business entities not being registered with relevant authorities. Particularly, with no specific regulations on their business scope, illegal and unhealthy activities conducted by such businesses are raising risks for damages related to consumers. One of the most problematic case is that an advisory service provider who has registered itself as a quasi-investment advisory business entity operates a stock advisory chatroom. Quasi-investment advisors are supposed to give non-specific information to unspecified individuals. However, it is frequently observed that they offer individualized advisory services such as a one-on-one consultation, which only the formally registered investment advisors are permitted to engage in.
1)
In response to this trend, Korean supervisory authorities introduced the 'Measures to Strengthen Oversight on Quasi-investment Advisory Businesses' at the end of April 2021, and declared that they would prohibit quasi-investment advisory businesses from running stock advisory chatrooms, tighten control on all phases ranging from business registration to service operation and exit from the market and significantly expand crackdowns on illegal, unsound activities. Although controversies over such services have subsided after the announcement, some raise concerns that illegal, unwholesome business practices could be hardly addressed. Against the backdrop, this article intends to explore the current state and issues regarding quasi-investment advisory businesses, particularly with focus on stock advisory chatrooms, and to suggest directions for improvement.
Quasi-investment advisory business: overview and current state
A quasi-investment advisory business entity means a person who provides advice on the value of financial investment products to an unspecified number of individuals through any publication, communication medium or broadcasting platform in consideration of some kind of benefit.
2)
The quasi-investment advisory business concept was introduced to Korea with the 1997 amendment to the previous Securities and Exchange Act, in an effort to institutionalize and keep monitoring private investment advisory firms that randomly sprang up and to protect individual traders. A quasi-investment advisory business performs similar functions to conventional investment advisors in that it offers advice on investment in return for payment. However, a stark difference between the two entities is that a quasi-investment advisory business should unilaterally give general investment tips to unspecified individuals while conventional investment advisors can offer a customized advisory service without such constraints.
A total of 2,092 quasi-investment advisory businesses were being registered with the Financial Services Commission as of November 2020, with the number of newly registered entities continuously rising to 497 in 2019 and 556 in 2020 from 33 in 2018. In terms of the proportion by business type, the ratio of legal entities to sole-proprietors was 4 to 6 in 2020, with sole-proprietors accounting for a higher share. It is hard to come by exact information on their business scale since official statistics are non-existent regarding quasi-investment advisory businesses' financial status. However, most of quasi-investment advisory entities are estimated to be small-scale enterprises, considering that average revenue of sole-proprietors generally tends to be lower than that of legal entities.
3)
Generally, a quasi-investment advisory business entity offers investment advice mainly through online platforms including spam messages, public-access chat rooms created on mobile applications, Internet webpages, YouTube channels, etc. and gains profits from membership fees or subscription fees. Recently, an increasing number of quasi-investment advisors set up stock advisory chatrooms by using a social media group chat service as a way to attract retail investors. Their typical business scheme is to encourage individuals to join chat rooms for free via spam messages, online advertisements or YouTube channels and then to recommend promising stocks or advertise returns on their previous stock trades. Then they usually induce members to subscribe to an online paid chatroom that they claim allows access to differentiated information. Such chatrooms are being operated on a private or anonymous basis and charge monthly subscription fees ranging from as little as KRW 20,000 to several millions won.

Current state of consumer-related damages inflicted by quasi-investment advisory services
As more quasi-investment advisory businesses increasingly enter the market, related consumer complaints are on the rise, together with illegal, unwholesome business activities being detected. With regard to quasi-investment advisory services, the number of complaints filed with the Korea Consumer Agency steeply climbed to 16,491 in 2020 from 1,855 in 2017, a 9-fold increase over the recent three years. Furthermore, the number of cases where damages were actually remedied shot up to 3,148 in 2020 from 475 in 2017. Meanwhile, among the entire consumer complaints received by Consumer Service Center under the Fair Trade Commission, the quasi-investment advisory service category received a total of 1,512 complaints, ranked second to the mobile communication service category while in terms of a MoM increase, it topped the list accounting for 22%.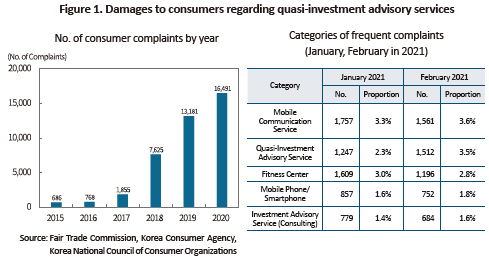 In terms of illegal, unsound activities of quasi-investment advisory businesses that were detected by the Financial Supervisory Service, of the total 54 detections, violation of the duty to report accounts for 44% (24 cases) while unregistered advisory services providing a one-on-one trading consultation represent 33% (18 cases), followed by unregistered discretionary investment management, unauthorized brokerage services and false, exaggerated advertising. Business activities that fall under the category of illegal, unwholesome practices include: an individualized stock trading consultation given to paid up subscribers via messengers or stock advisory social media chatrooms; unregistered investment advice offered in a form of private comments on members-only bulletin boards; discretionary investment management by installing copy trading or automated trading programs in a client's computer; and deluding investors with false, exaggerated advertisements like promises of unattainable returns or compensation for loss
Key measures of recent regulatory reform
As unlawful, unfair activities conducted by quasi-investment advisors have increasingly inflicted damages on investors, the financial authorities came up with the 'Measures to Strengthen Oversight on Quasi-Investment Advisory Businesses' in April 2021 to reinforce regulatory efforts. This movement stems from the awareness that regulatory reforms and regular crackdowns that have already been in place from 2012 are not sufficient to rein in new types of online-based business practices such as stock advisory chatrooms. The recent measures are meaningful in that the authorities have clarified business scopes for quasi-investment advisory businesses and registered investment advisors, taking a step forward from the existing management and oversight on business registration, operation and exit phases.
More concretely, such measures explicitly require quasi-investment advisory entities operating two-way communication channels like stock advisory chatrooms to register as an investment advisory business. Under the current regulation, any entity that intends to offer one-on-one consultations should register as an investment advisory business. However, this has been criticized for lack of feasibility since compliance with the rule is not mandatory and expenses for oversight are significant. For these reasons, the authorities aim to integrate into the investment advisory business category and regulate all operators of interactive communication channels—such as stock advisory social media chatrooms and online real-time commenting services—where one-on-one stock consulting may take place. As for stock channels on YouTube, many are being operated without registration. If these channels offer paid membership, they are deemed to have been directly paid for advisory services in accordance with authoritative interpretation and required to register as a quasi-investment advisory business.
In addition, as for phases of business registration, operation and exit, tougher restrictions have been introduced. In the registration phase, the ground for punishing false reporting has been created and types of business practices to be authorized have been further fragmented to include YouTube, mobile apps. In terms of business operation, compensation for potential loss, a guarantee of returns and advertising false profit rates have been explicitly prohibited while the Financial Supervisory Service's authority to conduct inspections has been strengthened for implementing oversight and sanctions effectively. With regard to the exit phase, additional reasons for revoking business registration of disqualified entities have been adopted, and re-entrance of deregistered entities is subject to stricter requirements.
Conclusion
This article has taken a close look at the current state of quasi-investment advisory businesses and key measures for regulatory improvement that were recently released by the authorities. Quasi-investment advisory services that were introduced under the 1997 amendment to the Securities and Exchange Act were mainly provided in the form of stock trading consultations via ARS-based telephone calls. However, such services have recently shifted towards online mechanisms such as stock advisory social media chatrooms or YouTube stock channels. This shift has exposed limitations of the existing regulatory regime in effectively supervising quasi-investment advisors. Against this backdrop, Korean supervisory authorities recently came up with policy measures to greatly improve regulations on quasi-investment advisory businesses, which would prohibit such entities from running stock advisory chatrooms and integrate into the investment advisory business category the group chat rooms or YouTube stock channels which operate interactive communication channels. If stricter regulations result in effective regulatory improvement, quasi-investment advisors would be forbidden from running stock advisory chatrooms, which likely eliminates most of illegal and unfair business practices.
In this regard, what is necessary for such measures to kick in is consistent inspection on whether quasi-investment advisors comply with regulations. Particularly, undercover inspections where investigators disguised as ordinary investors subscribe to stock advisory chatrooms have proven more effective in detecting illegal advisory services, compared with general inspections focusing on confirming website information. Therefore, more undercover investigations should be carried out going forward. After recognizing such effectiveness, the government came up with a plan to expand undercover inspections but it remains unclear whether sufficient full-time investigators could be secured to properly supervise 2,000 or more of quasi-investment advisors. Considering that crackdowns on and punishment of illegal, unsound activities are prerequisites for preventing reoccurrence of similar problems and establishing market disciplines, the most urgent task is to deploy additional full-time investigators for oversight.
---
1) For reference, operating an unregistered stock advisory social media chatroom is in violation of the Financial Investment Services and Capital Markets Act. Thus, there is a clear legal ground for sanctions against such business operators.
2) Article 101 of the Financial Investment Services and Capital Markets Act and Article 102 of the Enforcement Decree of the said Act
3) According to the Financial Supervisory Service's investigation into business practices of quasi-investment advisory businesses in 2016, the average revenues of corporations and sole proprietors stood at KRW 980 million and KRW 5,319, respectively.