Establishment of IFRS Sustainability Disclosure Standards
In Korea, listed companies over a certain size are required to phase in the sustainability-related information disclosure starting from 2025. Currently, more than 120 companies whose shares are traded on the secondary market are voluntarily publishing the "sustainability management report (hereinafter referred to as "sustainability report") on their websites, a few of whom are conducting a voluntary disclosure in the exchange.
Among a wide range of sustainability-related environmental and social factors, the ones faced by each company vary depending on business categories. Furthermore, there are no uniform criteria regarding stakeholders who receive a sustainability report, matters to be disclosed and framework and indicators to be used for reporting, which raises a question about the applicability and comparability of the sustainability report.
Discussions are underway on how to address such issues on a global level. The sustainability reporting standards, which have garnered the greatest attention and support, are being mainly discussed by the International Financial Reporting Standards (IFRS) Foundation, and the IFRS launched the International Sustainability Standards Board (ISSB) on November 3, 2021 to build the framework for the IFRS Sustainability Disclosure Standards.
1)
On March 31, 2022, the IFRS released exposure drafts of IFRS S1 General Requirements for Disclosure of Sustainability-related Financial Information and IFRS S2 Climate-related Disclosure, which would be officially finalized by the end of 2022 after various public comments are received. Countries adopting the IFRS are expected to recognize the established IFRS Sustainability Disclosure Standards as a global baseline and formulate disclosure standards tailored to each country's needs by making a partial revision or addition to the standards.
The exposure drafts of IFRS S1 and IFRS S2, in principle, require material information that investors believe could affect enterprise value to be included in the sustainability report. It also has been clarified that material information should be selected based on the standards adopted by the Sustainability Accounting Standards Board (SASB), unless otherwise specified by the IFRS. Some of the sustainable reports published in Korea have adopted the SASB standards-based materiality indicators and disclosed relevant information, which, however, have hardly been widely used.
SASB Standards for Sustainability Reporting
The SASB refers to 'sustainable' activities as business activities that help maintain or improve the capability of long-term value creation. In this regard, sustainability reporting from the ESG perspective aims to examine companies' capability of identifying and managing risks and opportunities that may arise from any environmental and social factors, and to present how the relevant organization and strategy can be utilized for that purpose at the corporate governance level.
The SASB defines ESG factors in terms of five sustainability dimensions including environment, social capital, human capital, business model & innovation and leadership & governance. It also describes general issues closely related to each dimension. For instance, the environment dimension addresses greenhouse gas emissions, air quality, energy management, water and wastewater control, waste and hazardous substance containment and other environmental impacts on the ecosystem. These issues are selected based on whether they can be influential in value creation, of interest to investors, applicable across the whole industry, actionable by companies and agreed upon among stakeholders.
2)
Sustainability topics related to environmental and social issues that have a material impact on each company are determined by the industry category under which a company falls. This is why the SASB identifies and reflects industry-specific sustainability topics. To this end, it has developed the Sustainable Industry Classification System (SICS)
3)
which is comprised of 11 sectors and 77 industries and provided the Sustainability Accounting Standards tailored to each industry.
4)
The Global Industry Classification Standard (GICS), an industry taxonomy designed for the capital markets, assigns companies to a specific industry group based on breakdowns of revenues. On the other hand, the SICS groups companies based on shared sustainability risks and opportunities. Then it applies the grouping result to the existing industry classification system and reclassifies companies into a new sector and industry, or an existing industrial sector to achieve a complete SICS structure.
Industry-specific material information selected by the SICS
The SASB has established the material information standards (SASB Standards) for each of 77 industries, based on which a company can disclose sustainability information that helps investors to make financial decisions. The SASB Standards are comprised of Disclosure Topics, Accounting Metrics created to measure performance on each Disclosure Topic, Technical Protocols used to explain indicators in technical aspects (applicable scope, unit of measure and calculation method) and Activity Metrics. The Activity Metrics represent a company's size such as the sales amount and number of employees and can be used to standardize relevant indicators for comparison.
As for the industry-specific SASB Standards, the Provisional Standards for each sector were documented from July 2013 to March 2016, and the Industry Research Briefs including review data of Disclosure Topics' financial materiality were added to the standards. The Provisional Standards were released in the form of an exposure draft and then finalized after receiving expert opinions.
5)
Taken all together, the SASB Standards consist of five sustainability dimensions, 26 general issues, and SICS-based Disclosure Topics and relevant indicators classified by 11 sectors and 77 industries.
6)
Although the SASB Standards encompass a wide range of Disclosure Topics and relevant indicators, companies falling within the same industry category have been found to publish six Disclosure Topics and 13 relevant indicators on average.
7)
This underscores the efficiency of the SASB Standards, given the amount of information contained in existing sustainability management reports.
Material information disclosure by Korea's listed companies
The IFRS Sustainability Disclosure Standards are intended to provide material information that practically helps investors to make better decisions. The exposure drafts have advised against specifying sustainability information that is not helpful to financial decisions. This suggests that what matters to the IFRS is how beneficial sustainability-related information is to investment decisions, rather than the absolute amount of information.
This article analyzes Bloomberg's ESG Disclosure Scores to find the materiality level of sustainability information disclosed by Korea's listed companies.
8)
Bloomberg's indicators that match up with the SASB's materiality indicators, the benchmark for the IFRS are identified
9)
to produce the quantity of material information. In the analysis, as of the end of 2020, material information disclosed by Korea's listed companies with asset size of KRW 2 trillion or more represents an average of 24% of the total SASB-based materiality indicators,
10)
or one quarter of the material information required by the IFRS.
Currently, existing sustainability reports tend to describe the effects of sustainability information on a specific company to various stakeholders, rather than the usefulness of such information in investments. Given this tendency, a smaller amount of material information being disclosed by Korean companies is a predictable result. As the companies mentioned above earn an average of 46% in Bloomberg's ESG Disclosure Scores, material information disclosed by them takes up nearly half of sustainability information in terms of an absolute amount.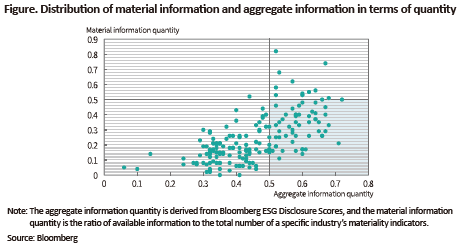 As illustrated in the Figure, the quantity of material information is proportional to the aggregate information quantity to some extent. But the information in large quantity does not necessarily mean a great quantity of material information. Companies tend to prioritize disclosing information related to various stakeholders over publishing information of financial importance. Some of them may increase the quantity of information with boilerplate language to reduce proprietary costs, rather than adding material information that may affect enterprise value to their report.
11)
Implications
With the widely accepted IFRS Sustainability Disclosure Standards, discussions about ESG issues are expected to bring practical changes to business activities because the standards are intended to select and disclose information that could help investors to make better decisions. If sustainability information selected by financial materiality is carefully reviewed and adopted by companies in Korea's capital markets, such information would be equally treated as material accounting information and thus, serve as an essential variable in the assessment of enterprise value. As this is related to financing costs, companies would have an incentive to identify risks and opportunities regarding sustainability and offer relevant information to the market from a strategic perspective.
During the process of devising the industry-specific SASB Standards, several industry insiders, legal and accounting experts and investors participated in verifying financial materiality of sustainability information. They identified items on the agenda and determined the materiality of each item with a focus on the industrial and regulatory environment of the US. This means that a few industry-specific indicators may be irrelevant to Korea, or have not been applied although they are essential to sustainability reporting by Korea's companies. The IFRS is well aware of the problem and has initiated a discussion to improve the international applicability of the IFRS Sustainability Disclosure Standards. Against this backdrop, Korea's relevant parties also need to conduct a review to ensure local jurisdictional requirements are reflected in the standards.
---
1) More than 40 countries including Korea support the launch of the ISSB and the establishment of the international financial reporting standards.
2) Refer to the SASB Conceptual Framework (2017).
3) Sustainable Industry Classification System, SICS® (hereinafter referred to as "SICS")
4) The SASB classifies 3,398 Korean companies based on the SICS as of the end of 2021.
5) The Public Comments Letters and Responses to Public Comments, as well as the Provisional Standards and the Industry Research Briefs included in the industry-specific SASB Standards, are provided in documents at https://www.sasb.org/standards/archive/#document-descriptions.
6) A total of 445 Disclosure Topics selected for 77 industries and 993 relevant indicators are included in the SASB Standards.
7) The analysis is based on VRF's Briefing on ISSB & Regulatory Development (April 6, 2022), with a focus on the case of the US.
8) Bloomberg provides ESG Disclosure Scores for 12,990 listed companies around the world every year. The scores are only a measure of information quantity disclosed by a company, not representing ESG performance. Bloomberg says that it tracks about 800 indicators by using annual reports, sustainability reports, media data and third-party materials. As of May 8, 2022, the scores of 411 Korean companies are available.
9) This article uses the Sustainable Accounting Standards Board to Bloomberg Field Mapping (version 2) provided by Bloomberg to conduct the analysis.
10) The quantity of material information is the ratio of the number of indicators actually disclosed by a given company to the total number of materiality indicators specified in the SASB Standards.
11) Lee, I.H. & Lee, S.H., 2021, Discussions on how to implement mandatory disclosures for sustainability reporting, KCMI Survey Paper 21-01.