Latest Publictions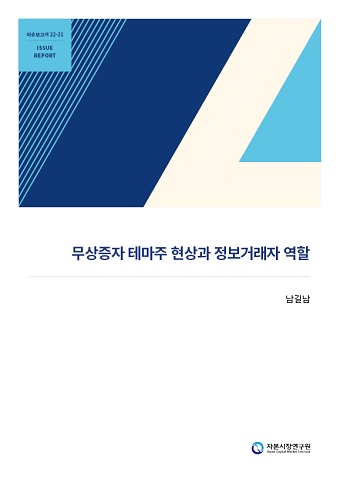 2022 Nov/01
Bonus Issues Turning into Thematic Stocks and Role of Informed Traders
Issue Papers 22-21
PDF
Summary

Since 2020, newly listed and loss-making companies in the pharmaceutical and biotech sectors have issued bonus shares in the name of the shareholder return policy. The prices of bonus shares have soared immediately after disclosure, which has overheated the bonus share market as is the case with the politically themed stocks. More recently, some listed companies that mainly contribute to turning bonus shares into thematic stocks have increased the number of new shares allocated to each shareholder to an unprecedented level in order to grab the attention of retail investors. As a result, the price of bonus shares and the turnover ratio tend to surge immediately after the disclosure and on the ex-rights date. However, this is a short-lived phenomenon that cannot enhance shareholder returns.

The response to bonus issues is sharply divided by type of investors, suggesting that retail investors and informed traders recognize the value of information regarding bonus issues differently. Retail investors show a massive net buying trend after bonus issues are disclosed, while institutional investors who act as informed traders consistently continue the net selling of bonus shares. Foreign investors tend to change their position over the course of stock trading to actively create more investing opportunities. In some cases, corporate insiders and early investors took advantage of bonus issue disclosure to sell their holdings. In the meantime, how informed traders react to bonus issue disclosure has been affected by regulatory changes in short selling. As the role of informed traders is limited by short-selling regulation, bonus shares show a larger price increase for a prolonged period.

If a company disguises a bonus issue as its shareholder return policy to attract retail investors, it could be tantamount to abusing the bonus issue system. Accordingly, specifying the purpose of bonus issues should be mandatory when a bonus issue is disclosed. If informed traders take on a greater role, the themed stock phenomenon where a share price keeps surging regardless of its intrinsic value could be curbed in the early stages. Hence, it is necessary not to excessively limit the role of informed traders when regulatory measures are devised.