Latest Publictions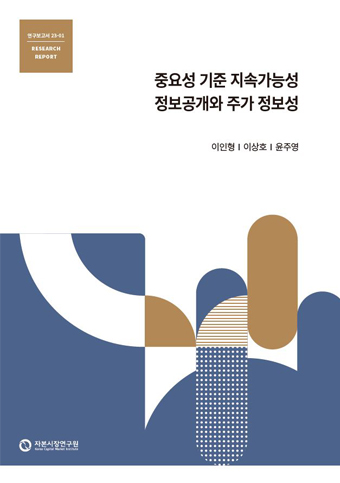 2023 Jan/05
Sustainability Reporting Based on Materiality and Price Informativeness
Research Papers 23-01
PDF
Jooyoung Yun
Other Publications

No other publications.
Summary

That corporate sustainability information disclosure enhances enterprise value discovery is a basic premise underlying sustainability disclosure discussions. If this is not the case, sustainability reporting efforts can be of little value to both the corporate and the investors. This aspect of sustainability reporting should be taken into consideration when regulatory efforts are undertaken to mandate disclosure. This paper aims to ascertain empirically whether disclosure of material sustainability information increases the price informativeness of the firm's stock price to provide evidence that can be considered in the regulatory design.

The IFRS S1 General Requirements for Disclosure of Sustainability emphasizes the disclosure of material information that has relevance to the enterprise value. When there are no disclosure standards specified by the IFRS S1, companies are to be guided by the SASB industry-specific disclosure standards. Since sustainability issues related to the environment and social agenda have a different level of relevance for each industry and firm, disclosure standards are uniquely provided for 77 different industries that have been identified by the SASB.

For each disclosure standard, firms are to decide which disclosure topics and related metrics are material and report them accordingly. So any sustainability information disclosed in this manner is firm-specific and the information content should be reflected in the idiosyncratic firm price movement. This hypothesis is put to test by utilizing Bloomberg's ESG Disclosure Score database. Bloomberg provides SASB to Bloomberg Field Mapping service, which is a tool that provides a Bloomberg mapping of the material ESG metrics and data points aligned to the SASB Standards ESG disclosure topics based on SASB industry materiality.

Price informativeness is defined as the part of a price movement that is purely attributable to the firm-specific information content. This variable is explained by the material disclosure level of a firm after taking into consideration other independent variables that are deemed to affect the price informativeness through separate channels. Control variables such as firm size, business characteristics, institutional investors' ownership, accounting information, etc., are employed and the year and firm fixed effects are also applied.

Results indicate that material information enhances price informativeness, and other control variables also show relational signs that are theoretically correct and empirically supported in the literature. Different lags and leads are employed to check the robustness of the results.

Furthermore, firms in a group that show a higher level of profit uncertainty with a lower growth prospect show significant price information content of material information than the group with a lower level of uncertainty and higher growth prospect. In a similar manner, the group of firms that engage in less conservative accounting practices also show higher price informativeness than the groups that do otherwise.